TESTIMONIALS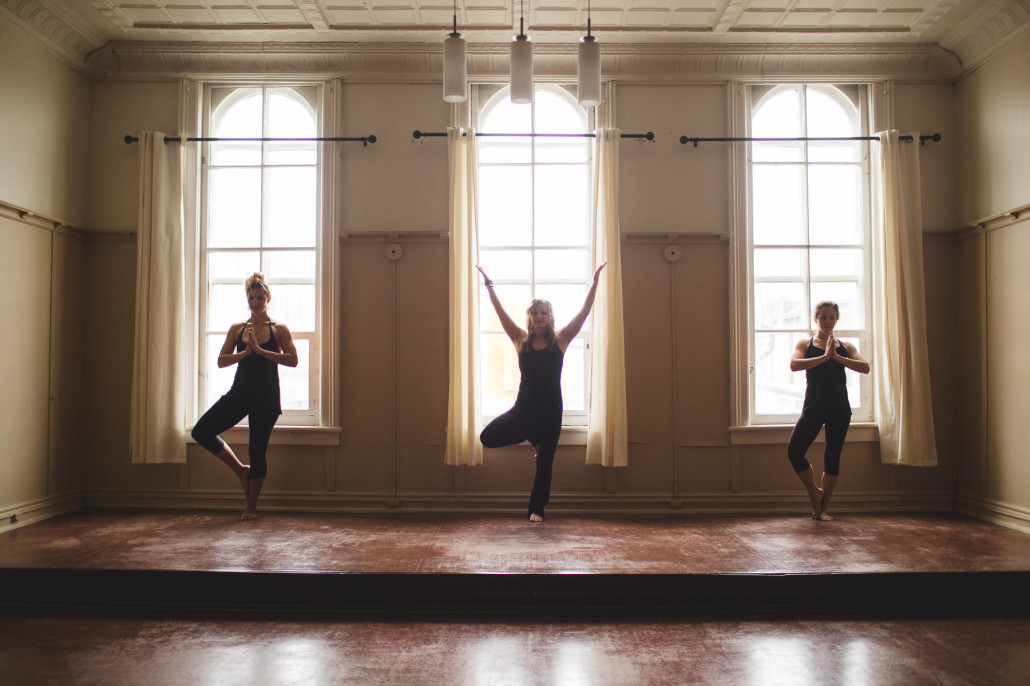 PRENATAL YOGA TESTIMONIAL
Week 40 of my pregnancy and last night of the prenatal yoga class is bitter sweet. I almost want to go way overdue just to get one more class in.  I get super excited when the day comes to leave the house and quickly get up the stairs to sit on my mat and take time for myself.  This wonderful class gives me the opportunity to take an hour and a half to focus on how my body feels and the way it moves with the miracle inside me. Up at the front is Joey our educated, supportive and observant yoga instructor to lead me though the safe posses that my pregnant body can handle. Her words and voice uplift my spirit and give me motivation to continue to exercise my mind and body throughout the week even when I am not in the class.
At the beginning of the class each expecting mom gets to say something about how they are feeling or just a little tidbit of information about where they are in their journey. It is this stage of the class where you can look around and know you are definitely not alone as your body changes and as you build your little human. The class seems to fly by and you are left with wanting the class to be more then once a week. But even with one class a week I felt stronger, more flexible and able to stand tall even when the weight of my belly was pulling me down. With this class I was able to be kinder to myself and listen to my body. In my opinion it even helped me though the birth phase of my pregnancy. All that I learned in the class and from the other women I took with me to the birthing suite and had a sensational birth experience. I am so grateful to have had the opportunity to complete this class twice and recommend it to other expecting mothers any time I get the chance to.
 Truly grateful
 Amber Hache-Heino
STUDIO TESTIMONIALS
Dear Yoga Loft,
It has been three years now since we left Lindsay and in continuing with our personal yoga practice neither of us has ever found a space or place that quite compares with yours.  In all the studios we have visited, we find ourselves comparing the experience with what we found at the yoga loft.  The yoga loft never ceased to provide a warm, welcoming, tranquil space for yoga practice which started the instant you entered the building and could smell the incense at the bottom of the stairs.  The teachers were always attentive to each student no matter the class size, paid attention to alignment as well as postures, breath and spiritual energy.  We are so great-full to have had the opportunity to grow as young yogis within the space and direction you provided.  Today we find ourselves in Victoria, BC exploring a new chapter in our lives.  In reflecting on our ever-evolving practice, we wanted to send our gratitude for always providing us with unparalleled support and guidance on the mat.
Sending light, love and peace.
Namaste,
Mary and Anna, Victoria BC
Welcome.  Glad.  Peace.  Joy.  Proud.  These are five feelings that I have every day since the very first time I entered The Yoga Loft.  Welcome with open arms and open hearts by each instructor no matter what class I came to and what level.  Glad that I had made such a mindful and positive choice for my physical and emotional well being and that I had found such kind friends within its walls.  Peace in every moment I spend there, no matter how hectic a day I may have, no matter how harried I feel entering, I always leave with a lovely sense of peace.  Joy in my body's ability to achieve things I didn't think I'd be able to do again, not to mention the joy in finding friendship in unexpected places.   Proud of what my body can do.
I am proud to know Joey and the wonderfully wise Yogis in her studio.   I am also very proud of myself for not being intimidated by yoga, for there is nothing intimidating about yoga at all.   That is the irony about yoga, isn't it?  People talk themselves out of yoga beginning with negative thoughts such as "I'm not flexible."  Or "I'm too old."   Or "Yoga is for women."  All of which are untrue.   From hockey players to artists, 8 yearsto 80, there is a place for yoga in all our lives.  The Yoga Loft 'gets it'.  They do it right and their Yogis are remarkable at scanning a class, knowing almost psychically which poses may be too challenging for some in the class or perhaps that a more challenging pose can be introduced that day.  I have never felt centered out, but always welcome to request help, or welcome to rest through a pose that is not calling to me on that day.  All are welcome.  All moves are adaptable to your level.  All will, provided you take those initial steps through The Yoga Loft's very welcoming doors, find the inner yogi within.
Dee G, Lindsay ON
I have to admit I thought yoga was for people who didn't really want to work out. You know, kind of a sissy workout. I wasn't really searching for anything just more curious after reading an article on "Hot Yoga" I had my plate full so to speak, hitting the gym regularly as well as running a bit.  I Googled HOT YOGA and was surprised to find the YOGA LOFT in Lindsay. The website was very informative letting me know that beginners were more than welcome, mat rentals available, literally everything I needed. I tried my very first yoga class (ever) that day and I've been going ever since.
The only way I can describe the feeling after my first class was like someone pulled me straight up from the top of my head and stacked everything in a straight line. I felt every muscle from the base, to the very top of my spine, It made me realize even though I was working out everyday my body needed something more. I wasn't getting the full benefit from my workouts. My muscles were contracted and never stretched.  I am so glad I tried that first class. I stand taller; I feel better, I am more flexible and look leaner than I did working out at the gym.  The best part of this for me is I LOVE IT!!! I never feel like I don't want to go.
I love the space, the people and it's the only place I can lie down where someone is not asking me if I'm ok? Whether you're  fit or  trying exercise for the first time in your life, you will feel comfortable joining in. It's the most  non intimidating atmosphere and it's the same everywhere. I would never  "pop" into a gym if I was away from home yet I find myself seeking out other yoga  studios if I am away, just to experience their space.
Anyone can practice yoga and I'm a firm believer that everyone should. The practice is so personal and individual; you're on your mat, doing your thing. It's peaceful and invigorating at the same time. Its comfortable yet challenging. I never leave the studio feeling like I didn't have a good workout yet I always leave feeling so relaxed.
I wish I could take a room full of weight lifters and have them attend just 1 Hot Yoga class, so they could experience the stretch. It would improve their gym workout immensely.  Yoga is something I intend to practice in my senior years.
Being able to move easily and having great posture is something I want to maintain for years to come.
Elaine J, Lindsay ON
My experience at The Yoga Loft has been great! Everything from the friendly staff to the relaxing environment and of course the personal benefits to my body and mind keep me returning to class each week.
As I'm sure many people can relate, there never seems to be enough time in the day to get everything done, let alone exercise, however for me half the battle is just taking the time to physically get to class but when I get there and lie down on my mat and take the time relax, breathe and stretch I wonder why I would ever consider not going!
I highly recommend The Yoga Loft and encourage everyone to give a class or two a try – you'll love it!
Karen G, Lindsay ON