RESTORATIVE YOGA + ESSENTIAL OILS
Experience peace, deep relaxation and rejuvenation of the body, mind and emotions, with the union of restorative yoga and pure essential oils.  In restorative yoga, you will be completely supported by props, during which time will give you the opportunity to invite the pose in, or surrender, to each pose.  Here, you will begin to feel accumulated tension release, in the muscles, connective tissues, and the mind.  The therapeutic application of essential oils through gentle hands, will provide you with a calmness that is needed for physiological balance and healing, along with other health benefits.  Gift yourself and/or a loved one to this blissful experience.
This workshop is suitable for every body; no yoga experience necessary
NEXT WORKSHOP:
Date:        Sunday November 17th
Time:        6:30 – 8:30 pm
Cost:         $50  ($45 for Monthly Auto Renew Members)
* prices incl. HST
* this is a preregistered workshop; space is limited, please register early to avoid disappointment

YOGA FOR BEGINNERS
Back by popular demand!  We understand that walking into a studio for the first time can feel … a bit awkward or uncomfortable (we've all been there!); however, if you have been considering trying yoga, or coming back to your mat to give it another try, this is the class for you.  Designed just for beginners, we will cap this class to a maximum, to ensure a more intimate practice.  This series of classes will slowly guide you to explore and honor the needs and limitations of YOUR body, while increasing balance, flexibility, focus and muscle tone.  By the end of this  session (but likely before), you will not only feel lighter, looser and freed up in the physical body, but also in the mind.  Together, we will hold and share a space of no judgement, competition, comparing or criticism, but rather acceptance, compassion and self care.
8  WEEK FALL SESSION
Dates:   Thursday September 12th – November 7th
Time:   5:30 – 6:30 pm
Investment:   $140/8 weeks HST included
6  WEEK SESSION
Dates:   Thursday November 14th – December 19th
Time:   5:30 – 6:30 pm
Investment:   $105/6 weeks HST included
*no class on Halloween
*space is limited; please preregister
*session can be prorated for late registrations, and drop ins welcome as space allows

TWEEN YOGA
Back by community demand, is our Yoga for Tweens Classes, designed for ages 10­-13 years. The transition from young child to tween (adolescent) often results in mixed emotions, uncertain moral standards, and heavy peer pressure.  Our tween classes are designed to help tweens find their sense of calm, build self awareness; self acceptance, self esteem, self confidence, focus & balance (both on and off the mat), and so much more!  If this sounds like something your tween(s) could benefit from, register  for our upcoming session today!
6 WEEK FALL SESSION
Ages:   10 – 13 years
Dates:   Monday October 21st – November 25th
Time:    5 – 6 pm
Investment:  $75/6 weeks/HST included

PRENATAL YOGA

Our Prenatal classes guarantee  to help expecting mothers to release tension in both body and mind.  Learn useful breathing techniques (pranayama) that you can incorporate into your life that will be especially helpful throughout your  pregnancy, throughout your delivery and into parenthood.  Guided gentle movement and postures not only help you to find ease in your body, they will gently massage your baby; creating an inner memory of calmness and relaxation that they will carry within them indefinitely.   With your permission, these classes often end with a lavender foot or brow massage that will ensure you experience at least, a few moments of bliss in your week.
8 WEEK FALL SESSION DETAILS
Dates:   Monday September 9th – November 4th
Time:   6:15 – 7:30pm
Investment:   $140/8 weeks HST included
LATE FALL 6 WEEK SESSION DETAILS
Dates:   Monday November 18th – December 23rd
Time:   6:15 – 7:30pm
Investment:   $105/6 weeks HST included
*no classes on Stats: Thanksgiving Monday, October 14th
*spots are limited; please preregister to secure your spot
*sessions can be prorated to suit the duration of your pregnancy; email us: info@yloft.ca
*drop ins welcome if space allows @ $18 (HST incl)

MOM + BABY YOGA
Join us in experiencing the joy of practicing yoga with your baby.  In this class specifically designed for postnatal women, we will focus on calming the mind, releasing tension and toning the body.  Through gentle movements, breath work, stretching and strengthening, you will soon begin to feel stronger, more confident and a stronger connection between body + mind.  You and baby will both benefit from the bonding time together while connecting with other moms and babies in our community.  In this supportive environment, moms are free to tend to their babies needs.  This class is suitable for beginners, and/or for moms transitioning back into a gentler practice, and for babies who are not yet crawling.  Please note: babies are not used as props in this series.
CURRENT 6 WEEK FALL SESSION
Dates:   Tuesday September 10th – October 15th
Time:   12 – 1 pm
Investment:   $105/6 weeks HST included
UPCOMING 8 WEEK SESSION
Dates:   Tuesday October 22nd – December 1oth
Time:   12 – 1 pm
Investment:   $140/8 weeks HST included
*Late registrations may be prorated and are welcome as space allows
*Drop ins welcome @ $18/class

YOGA NIDRA FOR HEALING + DEEP SLEEP
Delve into deep Relaxation, Heal, Rest & Create positive personal change with Yoga Nidra. Gain insight into this ancient practice for imbalances such as stress, anxiety, high blood pressure, chronic fatigue, digestive disorders, insomnia etc. Release tensions & impressions stored in layers (the Koshas) of the mind and body from negative core/self beliefs. Yoga Nidra is a meditative form of very deep relaxation that has a profound effect on the body, mind & emotions.  All you need to do is lay comfortably in savasana on your mat & listen.  Whatever you experience, whether you are awake or asleep, your deepest layers will go through the journey, & as a result, you will benefit in so many ways!  If you've been feeling a bit sleep deprived, you will be happy to know a 45 minute Yoga Nidra practice is equal to 3­-4 hours of sleep!
Visit our YOGA NIDRA page for more information!
DETAILS
Date:   TBD
Time:   8:30 – 9:30 pm 
Investment:   $20/class (members pay $18)  HST included

*please preregister; drop ins welcome as space allows
*class cards/auto renew classes cannot be used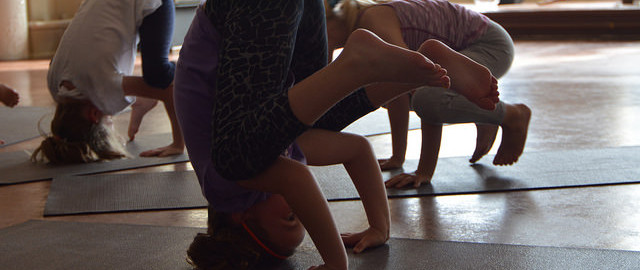 YOGA LOFT KIDS
Suitable for children 5 – 9 years.  This is a super fun way to introduce yoga to our children because that is exactly how we think yoga should be for kids; fun and games, adventures, stories, creativity……..and on top of it all, we incorporate yoga poses into our adventures!   Register your child for our upcoming session today!
UPCOMING FALL SESSION
Dates:   Saturday September 26th – November 30th
Time:   10 – 10:45 AM
Investment:   $75/6 weeks
*limited to 10; register today
*register more than one child and receive a 10% discount