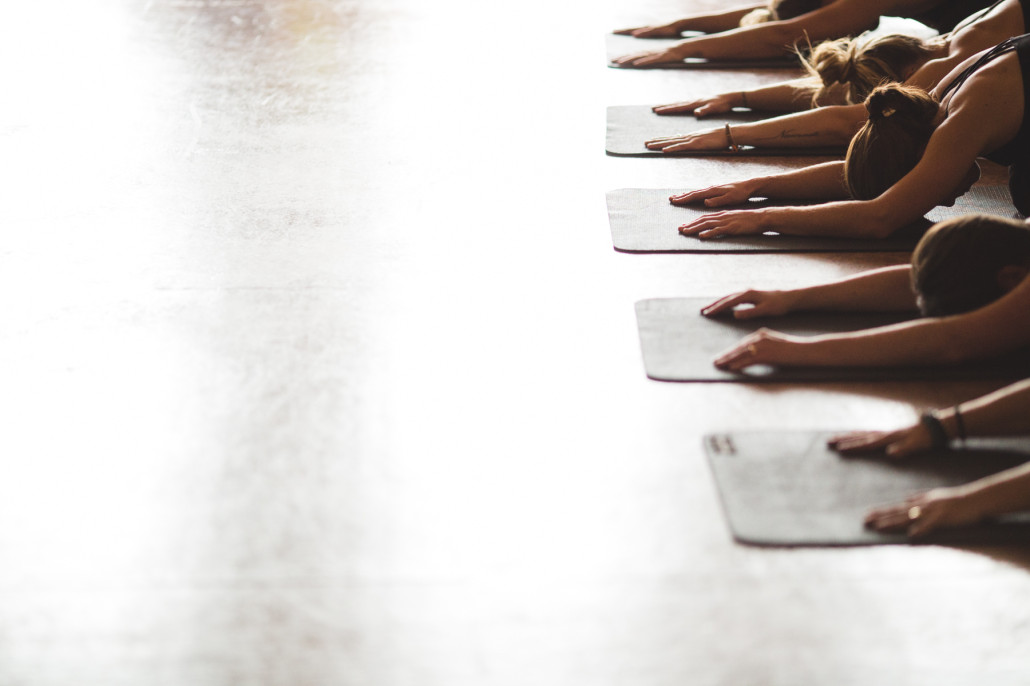 YOGA CLASS DESCRIPTIONS
Hot Vinyasa Flow
'Vinyasa Flow' means to link breath and movement.  Our Hot Vinyasa Flow is practiced in a heated room (94-­98C) to aid in warming the body for the practice.  The heat allows your muscles to ease through their full range of motion within your own individual, physical limits.  Focus is on balance, power, fluidity, flexibility and alignment while continuing to emphasize the fundamentals of yoga.  Whether you are looking to Improve your metabolism and circulation, or strengthen your cardiovascular system, this is the class for you!  Hot Yoga is known for it's detoxification benefits through sweat along with rejuvenation of the skin.  Melt away years of stress and cleanse your body of toxins as you stretch and strengthen. Please arrive well hydrated.  Drop in, Members, or Class Cards welcome.
Hot Power Flow
Very similar to our Hot Vinyasa Flow, our Hot Power Flow is a  powerful, energetic, and playful flowing class.  Detox, stretch, strengthen, DE-stress and improve your metabolism and flexibility all in one class guaranteed to  leave you feeling rejuvenated and empowered.  Following a vigorous sequence, you will be rewarded with stretching areas of the body that hold knots and  tension.  Like our Hot Vinyasa Flow, this class has a strong emphasis on breath and allows beginners, intermediate and advanced students to be challenged in the same class.   Please arrive well hydrated.  Drop in, Members, or Class Cards welcome.
Ashtanga Infused Vinyasa Flow (Hot)
Ashtanga, derived from India, literally translates into 8 limbs or branches.  The asana, or physical yoga postures, make up one of those branches, along with the breath.  In this class you will synchronize your breath with intentional movement in order to strengthen and purify your body and mind.  We will sweat our way through traditional postures from the Ashtanga sequence, as well as experiment with some non traditional asanas.  This practice has many benefits including toning the body, massaging organs, greater mobility, stillness of the mind and internal awareness.  Please arrive well hydrated.  Drop in, Members or Class Cards welcome.
Gentle Vinyasa Flow (Warm)
This class incorporates all the same aspects as our Hot Vinyasa Flow, except we don't crank the heat!  Strengthen, stretch, and relax your entire body in this class.  The room will be "warmed" to 80 degrees, so if you have never practiced hot yoga before, or you just find the extreme heat too much, give this class a try!  This is a great class for beginners or anyone looking for a more gentle flow.  Be prepared to breathe, move, sweat, and to challenge both your body & mind!  Drop in, Members, or Class Cards welcome.
Yin/Restorative  Yoga (Warm)
In this combined Yin/Restorative practice, we will use supportive props that are used in Restorative Yoga practices, while surrendering, softening and relaxing into each pose.  In Yin Yoga, poses are held for 3 – 5 minutes, targeting the deeper connective tissues (vs the superficial tissues), and the fascia (that covers the body), as well as, nourishing the ligaments, joints and bones. Yin Yoga is a slower, more passive style of yoga, yet it won't take you long to discover that it can be challenging in its own way. Yin/Restorative Yoga is a satisfying whole body experience, and is the perfect compliment to your more active yoga practices.    Drop in, Members or Class Cards welcome.
Yoga 4 Thai (Warm)
Thai massage and yoga in Union.  This is a slow paced gentle class combining traditional yoga poses with thai massage.  Come join us for an hour of gentle stretching and relaxation.  This class is a whole body experience, and is another perfect compliment to your more active yoga practices/life.    This class has a maximum capacity of 10 participants, on a first come, first serve basis; option to preregister online to secure your spot.  Drop in, Members, and Class Cards welcome.
Karma Class
Karma means "to do," action without any intention for reward.  Sending out a non-­selfish intention in order to help others is what good karma is all about.  We hold Karma classes a few times per year. 100 percent of all donations go towards a family or organization in need; often in our community.  If you know of a local family or non profit organization who could use community love and support through a Karma class, please email us: info@yloft.ca Each Karma class will be advertised in our monthly newsletters and will include which style and temperature of each Karma class (hot vinyasa flow, non-­heated and/or Hatha).  A minimum donation of $10 is suggested.  Drop in, Members or Class Cards welcome.

Hatha/Gentle Yoga
This is the perfect class for new students who want to learn the fundamental poses in yoga, as well as seasoned students, who are looking for a more gentle practice.  This class offers proper and safe alignment and with sensitivity to the anatomy.  Our Hatha class is not heated (approx 75-­80 degrees). This class will allow you to build strength, mindfulness and flexibility over time.  There will be extra attention to detail and hands ­on assisting that will help you find ease and comfort in your practice.  On occasion, this class is offered as a session; however, it is currently running as a drop in class.  This class is not limited to new students; all are welcome!  This class is occasionally run as a session.

Intermediate Yoga
Be prepared to work hard and sweat in this creative and vigorous vinyasa practice.  Designed to be accessible for strong beginner students with variations that will challenge even the most advanced yogis, this class will be a full-spectrum, sweaty good time.  Learn the techniques and progressive stages to access even the most difficult poses in a straightforward and attainable way.  Classes begin with warm-up movements and breath awareness to prepare you for yoga postures.  The heart of each class is a sequence of postures that stretch, strengthen, and balance your body.  Each class ends with deep relaxation and meditation.  This class is run as a series.  Class Cards, Members are welcome;  or drop in, if space allows @ $18.    This class is occasionally run as a session.

Yoga Nidra
Allow yourself to restore, rest, heal, balance and create positive personal change with Yoga Nidra.  Gain insight into this ancient practice for imbalances such as stress, anxiety, high blood pressure, chronic fatigue, digestive disorders, insomnia etc.  Release tensions and impressions stored in layers (the Koshas) of the mind and body from negative core/self beliefs. Yoga Nidra is a meditative form of very deep relaxation that has a profound effect on the body, mind and emotions.  All you need to do is lay comfortably in savasana on your mat, and listen.  Whatever you experience, whether you are awake or asleep, your deepest layers will go through the journey, and as a result, you will benefit in so many ways!  Oh….  and a  45 minute Yoga Nidra practice is equal to 3-­4 hours of sleep!  Class Cards or Memberships cannot be used; Preregistered Price is $20/class or $18 for members/HST incl.

Prenatal Yoga
The perfect class for you and your unborn baby; a calming, warm and relaxing atmosphere that will benefit you both in unlimited ways. These classes will help you to reduce pregnancy related anxiety, thus helping allow you to enjoy your pregnancy on a deeper level and increase the bond between you and unborn baby. These friendly, and non­competitive classes will include relaxing breathing techniques, safe and gentle movement and stretches, gentle foot massages, handouts that cover pregnancy related issues ie) heartburn, Kegels swollen legs and feet, etc. You will also have the opportunity to share your experiences in a safe and supportive environment, and to further explore the miracle of pregnancy and childbirth. Guided, gentle movements and postures gently massage your baby; creating an inner memory of calmness and relaxation that your baby will carry within them indefinitely.
Did you know, that when you take the time to fully relax, the oxygen supply to your baby increases?
Prenatal Yoga has been proven to increase the production of endorphins which have very strong pain relieving effects. It also can increase DHEA (dehydroepiandrosterone) which not only supports the immune system, but can also enhances brain biochemistry; helping to prevent sadness and depression before and after the birth of the baby.
Please note:
* You should always receive permission from your Doctor before starting a new exercise.
* Space is limited to ensure an intimate atmosphere, drop-in will be allowed @$18 if space is available.
* We do not run prenatal classes throughout July or August,
* If you don't have a current regular yoga practice, it is best to wait until the 2nd trimester before starting.
* It is important to register with a Certified Prenatal Yoga Teacher, in a class specifically designed for expectant mothers.  This will ensure the safest yoga experience possible for you and your unborn baby. 

Your teacher, Joey Henderson, is Prenatal certified.
Mom & Baby Yoga
Join us and experience the joy of practicing yoga with your baby.  In this class, we will focus on movements and breathing specifically geared for new moms.  Relieve tension in the neck, shoulders and back, while strengthening the abdomen, back and pelvic floor.  You and baby will both benefit from the bonding time together while connecting with other moms and babies in our community.  This class is suitable to new students, as well as, for moms transitioning back into their practice.  Newborns to pre-crawling.  Session details are listed on our Specialty Sessions and Upcoming Sessions & Events Page.    This class is run as an occasional session.

Family Yoga
Family yoga is a fun and entertaining class for the whole family, Moms, Dads (Guardians/Grandparents) and Kids!  Come explore yoga together!  Life can be a bit of a balancing act – family, work, fitness, down time… let us help you out by combining two things we love; Family & Yoga!  Appropriate for the whole family, while child centered and created for fun!  Classes will include yoga poses, exciting yoga stories, and lots of fun and games, while strengthening bonds between family members, as well as, building confidence, self-esteem, and strong healthy bodies!  Children and parents will also be guided through breathing and relaxation to help focus and feel grounded.   This 60 minute class promises fun for the whole family.  All abilities and levels of experience welcome!  This class is perfect for young families with children 5 years old and up.
You & Me Yoga
This class is the perfect opportunity for you and your child(ren) to practice yoga, and spend fun, quality time together!  Join us in this warm and welcoming environment, where you can foster connection and build your relationship in a healing and powerful way.  This class is for children ages 5 – 9, and an adult caregiver.  This class is run as an occasional session.  When offered, session details are listed on our Specialty Sessions or Upcoming Sessions & Events Page.

 Kids Yoga
The Yoga Loft offers YOGA LOFT KIDS for children 4 – 8 years.  This is a super fun way to introduce yoga to our children because that is exactly how we think yoga should be for kids; fun and games, adventures, stories, creativity……..and on top of it all, we incorporate yoga poses into our adventures!  This class runs occasionally.  Register your child for our current or upcoming session today!  When offered, session details are listed on our Specialty Sessions or Upcoming Sessions & Events Page.   Drop ins welcome @ $13/class/HST incl.

 Tween Yoga
The Yoga Loft offers Yoga for Tweens for ages 10­-14 years.  A great way to build self acceptance, self esteem, self confidence, and so much more! The transition from young child to adolescent/tween often results in mixed emotions,  uncertain moral standards, and heavy peer pressure.  Let's focus on prevention; Yoga can help!  This class runs occasionally.  Register your tween for an upcoming session today!  When running, session Prices are listed on our Specialty Sessions or Upcoming Sessions & Events Page.  Drop ins are also welcomel.
Teen Yoga
During these years, full of changes, teenagers need to ease the everyday stresses and pressures of their lives.   This class builds balance, strength and flexibility in both the body and the mind, while increasing healthy body image, self awareness, acceptance, esteem, and confidence.  Yoga helps to revitalize low energy levels and helps to develop concentration and focus.  Teens learn breath work and relaxation that they can take with them into young adulthood.  This class is suited for 12 – 16yrs.   Register your teen for an upcoming session today!  When running, session Prices are listed on our Specialty Sessions or Upcoming Sessions & Events Page.  Drop ins are also welcome.

SPECIALTY CLASS DESCRIPTIONS
Meditation: Weekly Community Group
Please join us for our weekly 30 minute guided meditation! Developing a regular meditation practice creates an overall sense of well being and feeling of calm.  If you have been thinking of starting, or returning to, or deepening your own meditation practice, this is a great opportunity to meet with others from the community with the same interest, or to simply be guided through a meditation in our serene studio space.  
No previous meditation experience is required.  (Meditation does not run in the summer months).     This class will resume in the Fall of 2016.

FITNESS CLASS DESCRIPTIONS
Mom and Baby Fitness
Bring your baby to your workout.  This baby friendly environment allows Mom to work out with baby close by.  This class offers lots of variety, providing a total body workout!  The focus is on abs, core and muscle conditioning.  Infants up to 12 months are welcome.  Recommended for babies pre­-crawling (or not crawling too far or too fast!)  This is a fun way to get fit, feel great and meet other moms and babies in our community!  Registrations are ongoing or drop in option as space permits.  Sessions will be prorated for later starts.
Gentle Postnatal Mom and Baby Fitness
This program is designed for new moms with babes ages 6wk s- 6mnths. In this class, we avoid jumping or high impact exercises.  We will practice gentle and effective moves, focusing on using your core muscles to help you regain strength and energy after birth. This class is best for those that had a difficult delivery, new to fitness classes or mom's who are simply looking for a gentle start. Everyone will be challenged within their own personal abilities and a strong focus will be on abdominal and core strength. Babies are not used for any exercises however they can lay beside you during mat work.
Mom and Baby Stroller Fit
Get back into shape with baby!  Bring baby and stroller (any stroller will do) for an an hour of cardiovascular exercise and strength training, with power walking, short running drills and core training.  Lots of variety and options provided to suit all levels.  Another great way to get fit, have fun, feel great,  and meet other moms and babies in our community!  Registrations are ongoing; may be prorated for a late start, or drop ins as space permits. 
Mom and Tot Outdoor Fitness

It is not only important for toddlers to burn off some energy, it's equally important for Mom's too!  Bring your toddler to this outdoor fitness class.  This class will incorporate cardio, strength and core exercises to keep you fit and energetic so you can keep up with your toddler.  Some interval training and circuits will also be incorporated into this class.  This is a great opportunity for your toddler to play with others and get some fresh air!

Prenatal Fitness

Stay healthy, fit and feel good during your pregnancy! This class includes pregnancy-safe, cardiovascular exercise, strength training, flexibility and relaxation. Come and enjoy the benefits of gentle exercising during your pregnancy  to help you endure the physical demands of labor. A great opportunity to connect with other moms-to-be!  Your teacher, Melodie Leerentveld, is certified in Pre & Post Natal Fitness to ensure a safe and effective workout.
Please see our schedule page for our current schedule, or upcoming for session details and special events.  You can visit our rates page for prices on all of our drop in classes or pre­registered sessions.  Please do not hesitate to email us with any questions: info@yloft.ca  We look forward to hearing from you!