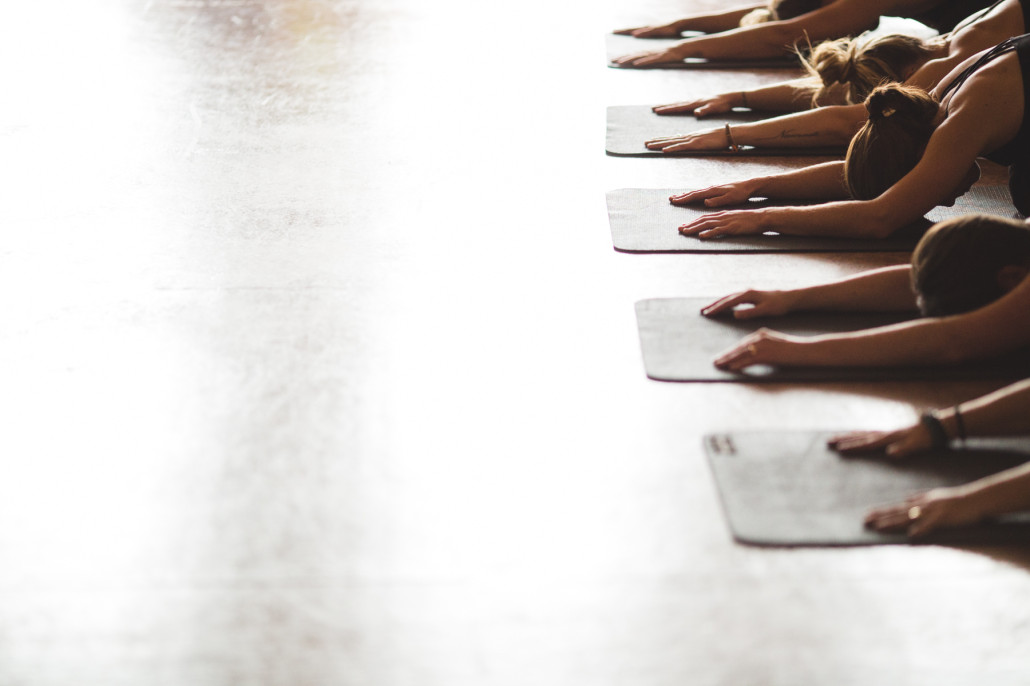 YOGA CLASS DESCRIPTIONS
REGULARLY SCHEDULED CLASSES
Gentle Hatha Yoga
This is the perfect class for beginning students who want to learn the fundamental poses in yoga, as well as seasoned students, who are looking for a more gentle practice.  In this non heated class, we move in and out of poses slowly, with  strong focus on safe alignment,  and breath.   Practicing Hatha yoga, will allow you to develop strength, mindfulness and flexibility over time.  There will be extra attention to detail, with occasional hands ­on assists, helping you to find a little more ease and comfort in your practice.  Our Gentle Hatha is a regularly scheduled class and is recommended for all; complete beginners if/when our 'Yoga for Beginners' is not offered, or does not suit your personal schedule;  and those looking for a more traditional style of yoga.
Hot Vinyasa Flow
'Vinyasa Flow' means to link breath and movement.  Our Hot Vinyasa Flow is practiced in a heated room (94 – 98 C) to assist in warming your body for the practice.  The heated room allows your muscles and joints to ease through full range of motion, while respecting and honoring your unique limitations.  Focus is on balance, power, flow, flexibility, alignment,  within the fundamentals of yoga.  Whether you are looking to develop union of the body, breath and mind, improve your metabolism and circulation, or strengthen your cardiovascular system, you will leave feeling stronger, lighter and recharged.  Hot Yoga is known for it's detoxification benefits and rejuvenation of the skin.  Feel year of stress melt away and cleanse your body of toxins as you stretch, tone and strengthen.  Please arrive well hydrated; we have a water station in studio for refilling.  Drop ins, members, and class card holders are welcome.

Gentle Vinyasa Flow (Warm)
This class incorporates all the same aspects as our Hot Vinyasa Flow, with less intensity & heat! Strengthen, stretch, and relax your entire body in this class. The room will be "warmed" to 80 degrees, so if you have never practiced hot yoga before, or you just find the extreme heat too much, give this class a try! This is a great class for beginners or anyone looking for a more gentle flow. Be prepared to breathe, move, sweat, and to challenge both your body & mind! Beginners, drop ins, members, and class card holders are welcome.

Mindful Flow
Similar to our 'Gentle Vinyasa Flow' class and 'Intro to Vinyasa for Beginners', the Mindful Flow is in a non heated room, with an increased focus on mindful movement; breaking down the poses and sun salutations. Learn tools on how to calm the mind and incorporate breath with movement, while strengthening, stretching, and relaxing your physical body.   This is a great class for beginners when our 'Intro to Vinyasa for Beginners is not running (or the time does not coordinate with your personal schedule),  or for anyone simply wanting a more gentle flow.   Beginners, drop ins, members, and class card holders are welcome.
Yoga + Meditation
Yoga + Meditation: Create a deeper mind | body connection through gentle yoga poses, breathing exercises, visualization and meditation. This blended class helps create opening in the body, relaxation + self discovery.  All levels are welcome; no experience necessary.
Urban Yoga Flow

Energize + Unwind. This is the theme for our Urban Yoga Flow class. Have you ever thought yoga isn't right for you? Maybe you do not connect with traditional yoga offerings? Are you looking for something different in your practice?  Urban Yoga Flow is a non traditional blended class, which includes music, cardio and deep relaxation.  It has been  proven that music can heal – the effects of music replicate that of dopamine production in the brain – thus helping to reduce anxiety and depression.  Our Urban Music Playlist will further help you tap into these dopamine receptors; Creating an increase of satisfaction within the psyche,  you are guaranteed to leave the class feeling happier and lighter. Even more importantly, you will have a chance to have fun (maybe even laugh, which in itself feeds the soul). Be prepared to experience a variety of yoga styles merged together, Vinyasa, Hatha, Kundalini + Restorative, creating an even more unique exploration of your practice.  Beginners, drop ins, members, and class card holders are welcome. "… remind yourself: nobody built like you. You designed yourself."  A Dream, by Jay-Z

Restorative Yoga & Thai Massage (Warm)
There is nothing quite like the union of Thai Massage and Restorative Yoga.  This is a slow paced gentle class combining traditional and restorative yoga poses with the magic of Thai massage.  Come join us for a full hour of gentle stretching, relaxation and bliss.  This class is a whole being experience, and is another perfect compliment to your more active yoga practices/life.    Our Restorative Yoga & Thai massage class has a maximum capacity of 10 participants, on a first come, first serve basis.  Option to preregister online, or call/email ahead to secure your spot.  Beginners, drop ins, members, and class card holders are welcome.

Restorative Yoga
In our Restorative Yoga class, we strive to assist you in reaching full relaxation and restoration.  So often we hear similar stories of people running themselves to thin, and as a result,  too much of our time is spent in the state of 'fight, flight or freeze' (the sympathetic nervous system).  Too much time spent in this state leads to dis-ease in our bodies and minds.  Our Restorative Yoga class reminds us to slow down!  You will learn to  invite restoration both physically and mentally, and in doing so, you are opening the door to a more healthy & balanced lifestyle.  In this class,  your body is typically supported by the floor, with the use of props such as, bolsters, sandbags, blocks and eye pillows.  Here, you will learn to arrive back in your body and into a state of 'rest and digest' (the parasympathetic nervous system).  Our Restorative class runs every Friday @ 4:45 – 6pm.   Join us in shedding away tensions and stresses of the week, month or lifetime, learn how to quiet the mind of the mental chatter, repetitive thoughts that don't serve you, but rather keep you occupied,  feeling heavy, or stuck.  If you are in need a little quiet, TLC or  more balance in your life, be sure to try it out.  Beginners, drop ins, members, and class card holders are welcome.
SPECIALTY SERIES OR CLASS STYLES (RUN OCCASIONALLY)
Hot Power Flow
Similar to our 'Hot Vinyasa Flow', our Hot Power Flow is a  powerful, energetic, and playful flowing class.  Detox, stretch, strengthen, DE-stress and improve your metabolism and flexibility all in one class guaranteed to  leave you feeling rejuvenated and empowered.  Following a vigorous sequence, you will be rewarded with stretching areas of the body that hold knots and  tension.  Like our Hot Vinyasa Flow, this class has a strong emphasis on breath and allows beginners, intermediate and advanced students to be challenged in the same class.   Please arrive well hydrated; and feel free to refill at our water station when needed.  Drop ins, members, and class card holders are welcome.
Yoga for Beginners
We understand that walking into a studio for the first time can feel … a bit awkward or uncomfortable (we've all been there!); however, if you have been considering trying yoga, or getting back on your mat to give it another try, this is the class for you.  Designed just for beginners, we will cap this class to a maximum, to ensure a more intimate practice.  This series of classes will slowly guide you to explore and honor the needs and limitations of YOUR body, while increasing balance, flexibility, focus and muscle tone.  By the end of this 8 week session (but more likely before), you will not only feel lighter, looser and freed up in the physical body, but also in the mind. Together, we will hold and share a space of no judgement, no competition, no comparing and no criticism, but rather acceptance, compassion and self care.  Our Yoga for Beginners is usually run as a preregistered series. Drop ins, members, and class card holders are welcome, if space allows.
An Intro to Vinyasa Flow For Beginners
This series of classes are designed for those who are looking for a little more core and flow, while still focusing on breathing and reducing tension.  In Vinyasa, we are still warming up and cooling down slowly, while learning to incorporate a more flowing with the breath.  This class will help to really warm up the muscles, and help to increase your cardio stamina, slowly!  This is the perfect class for beginners who are interested in exploring Vinyasa style yoga, for those who want a gentle flow, or for those who have been away from their mats, but would like to return at a gentler and slower pace. Over the 8 weeks, we will break down the Sun Salutation variations, while building strength in our core, major muscles and in our minds.  Spots are limited to 12; please preregister early, to avoid disappointment.  Our Intro to Vinyasa Flow for Beginners is run as a preregistered series; drop ins are welcome if space allows.

Yin/Restorative  Yoga (Warm)
In this combined Yin/Restorative practice, we will use supportive props that are used in Restorative Yoga practices, while surrendering, softening and relaxing into each pose.  In Yin Yoga, poses are held for 3 – 5 minutes, targeting the deeper connective tissues (vs the superficial tissues), and the fascia (that covers the body), as well as, nourishing the ligaments, joints and bones. Yin Yoga is a slower, more passive style of yoga, yet it won't take you long to discover that it can be challenging in its own way. Yin/Restorative Yoga is a satisfying whole body experience, and is the perfect compliment to your more active yoga practices.    Drop in, Members or Class Cards welcome.
Karma Class
Karma means "to do," action without any intention for reward.  Sending out a non-­selfish intention in order to help others is what good karma is all about.  We hold Karma classes a few times per year. 100 percent of all donations go towards a family or organization in need; often in our community.  If you know of a local family or non profit organization who could use community love and support through a Karma class, please email us: info@yloft.ca Each Karma class will be advertised in our monthly newsletters and will include details, such as the style and temperature (hot vinyasa flow, non-­heated and/or Hatha).  A minimum donation of $10 is suggested.  Drop ins, members, and class card holders are welcome.

Intermediate Yoga
Be prepared to work hard and sweat in this creative and vigorous vinyasa practice.  Designed to be accessible for strong beginner students with variations that will challenge even the most advanced yogis, this class will be a full-spectrum, sweaty good time.  Learn the techniques and progressive stages to access even the most difficult poses in a straightforward and attainable way.  Classes begin with warm-up movements and breath awareness to prepare you for yoga postures.  The heart of each class is a sequence of postures that stretch, strengthen, and balance your body.  Each class ends with deep relaxation and meditation.  Our Intermediate Yoga runs occasionally, as a preregistered series; drop ins are welcome if space allows.

Yoga Nidra
Allow yourself to restore, rest, heal, balance and create positive personal change with Yoga Nidra.  Gain insight into this ancient practice for imbalances such as stress, anxiety, high blood pressure, chronic fatigue, digestive disorders, insomnia etc.  Release tensions and impressions stored in layers (the Koshas) of the mind and body from negative core/self beliefs. Yoga Nidra is a meditative form of very deep relaxation that has a profound effect on the body, mind and emotions.  All you need to do is lay comfortably in savasana on your mat, and listen.  Whatever you experience, whether you are awake or asleep, your deepest layers will go through the journey, and as a result, you will benefit in so many ways!  Oh….  and a  45 minute Yoga Nidra practice is equal to 3-­4 hours of sleep!  This class is often run 1x/month during our busy seasons.  Class cards and memberships cannot be used; Preregistered Price is $20/class or $18 for members/HST incl.

Prenatal Yoga
Our Prenatal classes are designed  to help expectant mothers  release build up of tension, in both body and mind.  Learn useful breathing techniques (pranayama) that will help reduce pregnancy related anxiety, help you focus throughout your delivery and bring a stronger sense of calm into your life.  Guided gentle movement and postures not only help you to find ease in your own body, they will gently massage your baby; creating an inner memory of calmness and relaxation that they will carry within them indefinitely.  In this supportive and warm environment, we invite you connect to other prenatal moms, and further explore the miracle of pregnancy and childbirth.  With your permission, these classes often end with a lavender foot or brow massage that will ensure you experience at least, a few moments of bliss in your week.

Did you know, that when you take the time to fully relax, the oxygen supply to your baby increases?
Prenatal Yoga has been proven to increase the production of endorphins which have very strong pain relieving effects. It also can increase DHEA (dehydroepiandrosterone) which not only supports the immune system, but can also enhances brain biochemistry; helping to prevent sadness and depression before and after the birth of the baby.
Please note:
* You should always receive permission from your Doctor before starting something new
* Space is limited to ensure an intimate atmosphere, drop-in will be allowed @$18 if space is available.
* If you don't have a current regular yoga practice, it is best to wait until the 2nd trimester before starting
Mom & Baby Yoga
Join us in experiencing the joy of practicing yoga with your baby.  In this class specifically designed for postnatal women, we will focus on calming the mind, releasing tension and toning the body.  Through gentle movements, breath work, stretching and strengthening, you will soon begin to feel stronger, more confident and a stronger connection between body + mind.  You and baby will both benefit from the bonding time together while connecting with other moms and babies in our community.  In this supportive environment, moms are free to tend to their babies needs.  This class is suitable for beginners, and/or for moms transitioning back into a gentler practice, and for babies who are not yet crawling.  Please note: babies are not used as props in this series.  Session details are listed on our Specialty Sessions and Upcoming Sessions & Events Page.

Family Yoga
Family yoga is a fun and entertaining class for the whole family, Moms, Dads (Guardians/Grandparents) and Kids!  Come explore yoga together!  Life can be a bit of a balancing act – family, work, fitness, down time… let us help you out by combining two things we love; Family & Yoga!  Appropriate for the whole family, while child centered and created for fun!  Classes will include yoga poses, exciting yoga stories, and lots of fun and games, while strengthening bonds between family members, as well as, building confidence, self-esteem, and strong healthy bodies!  Children and parents will also be guided through breathing and relaxation to help focus and feel grounded.   This 60 minute class promises fun for the whole family.  All abilities and levels of experience welcome!  This class is perfect for young families with children 3 years old and up.
You & Me Yoga
This class is the perfect opportunity for you and your child(ren) to practice yoga, and spend fun, quality time together!  Join us in this warm and welcoming environment, where you can foster connection and build your relationship in a healing and powerful way.  This class is for children ages 5 – 9, and an adult caregiver.  This class is run as an occasional session.  When offered, session details are listed on our Specialty Sessions or Upcoming Sessions & Events Page.

 Kids Yoga
The Yoga Loft offers YOGA LOFT KIDS for children 5 – 9 years.  This is a super fun way to introduce yoga to our children because that is exactly how we think yoga should be for kids; fun and games, adventures, stories, creativity……..and on top of it all, we incorporate yoga poses into our adventures!  This class runs occasionally.  Register your child for our current or upcoming session today!  When offered, session details are listed on our Specialty Sessions or Upcoming Sessions & Events Page.   Drop ins welcome @ $13/class/HST incl.

 Tween Yoga
Back by community demand, is our Yoga for Tweens Classes, designed for ages 10­-13 years. The transition from young child to tween (adolescent) often results in mixed emotions, uncertain moral standards, and heavy peer pressure.  Our tween classes are designed to help tweens find their sense of calm, build self awareness; self acceptance, self esteem, self confidence, focus & balance (both on and off the mat), and so much more!  If this sounds like something your tween(s) could benefit from, register  for our upcoming session today!  When running, session Prices are listed on our Specialty Sessions or Upcoming Sessions & Events Page.  Drop ins are also welcome, if space allows.
Teen Yoga
During these years, full of changes, teenagers need to ease the everyday stresses and pressures of their lives.   This class builds balance, strength and flexibility in both the body and the mind, while increasing healthy body image, self awareness, acceptance, esteem, and confidence.  Yoga helps to revitalize low energy levels and helps to develop concentration and focus.  Teens learn breath work and relaxation that they can take with them into young adulthood.  This class is suited for 14 – 16yrs.   Register your teen for an upcoming session today!  When running, session prices are listed on our Specialty Sessions or Upcoming Sessions & Events Page.  Drop ins are also welcome.
Qigong
Qigong is an ancient Chinese holistic healing method that involves meditation, controlled breath work and movement. Qi (pronounced Chee) is our Life Energy. Qigong is a process dedicated to creating balance, strength , agility and grace to assure vitality as we age. Qigong is a system that may be used for a lifetime. Any one can practice Qigong. The first part of class will be devoted to improving your awareness of tension and blocks in your body so you can remove unnecessary stress. The next step is to begin to be aware of your internal organs and to tune into the flow of Qi (energy) throughout the body. We will also explore breathing exercises within our basic Qigong routine.
Qigong practitioners believe that energy flows through the body like a river. If the river flows too slowly it will become stagnant and not supply the body properly. If the river flows too quickly it can cause degeneration and exhaustion of the vital organs. Our practice will help us cultivate smooth flowing chi to help balance our energy.  Drop ins, Yoga Membership or Class Pass holders are all welcome to join.  No previous experience necessary!

Please see our schedule page for our current schedule, or upcoming for session details and special events.  You can visit our rates page for prices on all of our drop in classes or pre­registered sessions.  Please do not hesitate to email us with any questions: info@yloft.ca  We look forward to hearing from you!